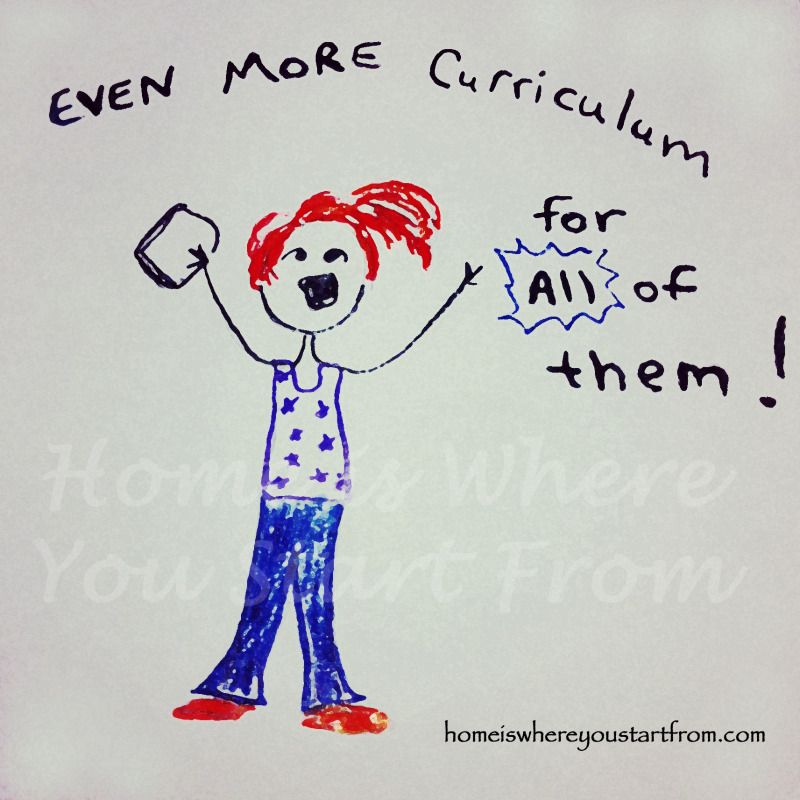 I went to the local hotel showing for Abeka books today.  I needed to order Biology books for Josie's Biola Star Biology class, and health books for the semester of health she needs to complete.  The cool thing about these hotel display meetings is that you get free shipping on your order. Boo-ya!  The uncool thing.... the curriculum lust and self-doubt I begin to experience as I look at all the books displayed.  I don't know about you, but I begin to re-think the approach I was perfectly happy with yesterday.  I'm good with the grammar and Math I have picked out, and yet, I begin to wonder if I have deprived my kids by not following the sequence of offerings they have displayed so nicely.
We are in the midst of some highschool Math-angst here at Home...major review going on at our house to prepare the girls for their courses for 2012/ 2013.  I am unhappy with Josie's retention and scared stiff about Meg taking Geometry this coming year.  I got a 'D" in geometry.  I was also in 9th grade and my teacher couldn't hear and would yell at me when she made me stand up and recite proofs.  Yeah, good times there...  anyhow, I started leafing through Abeka's Geometry and liked the traditional flow of it all.  I was sorely tempted to buy it and have her do two Geometry programs: Math-U-See and Abeka Geometry, you know to attack it from all theoretical angles.
I

f

Math curriculum is good, even more would be better!! 
And heck, while I was at it, let's throw in Abeka Algebra II for Josie to do along with her Math-U-See Algebra II.. piles of curriculum for all my kids!!
The solution manual for the Geometry was $60 and some dollars.  So, I did what I had to do and called Sky.  He talked me down.
Hey, I figure if Mr. Civil Engineer is happy with what we are using, who am I to doubt?
it'll be okay, right?  Whimper....
do any of you run in circles each year doubting your curriculum choices?  Tell me it's not just me....