~1~
The kids had their piano recital last Sunday.  Amie's skirt and top were bright pink.  I went to target and bought a package of socks so she would have a pair to wear with her silver flats.  There were 3 pairs in the pack, they were all glittery- I intended for her to wear the silver glittery socks with her silver flats. [ahem]  In the rush of getting ready and out the door, simply handed her the package, figuring that she'd know what to do. Um, no.  As usual, I didn't do a feet check until we were actually at the recital.  This is what I saw.  Many of my most embarrassing moments as a mom involve musical recitals.
~2~
Demi-Sky played a song from the Lord of the Rings movie soundtrack.  He played it entirely from memory.  I was so proud of him!
His socks were okay, whew!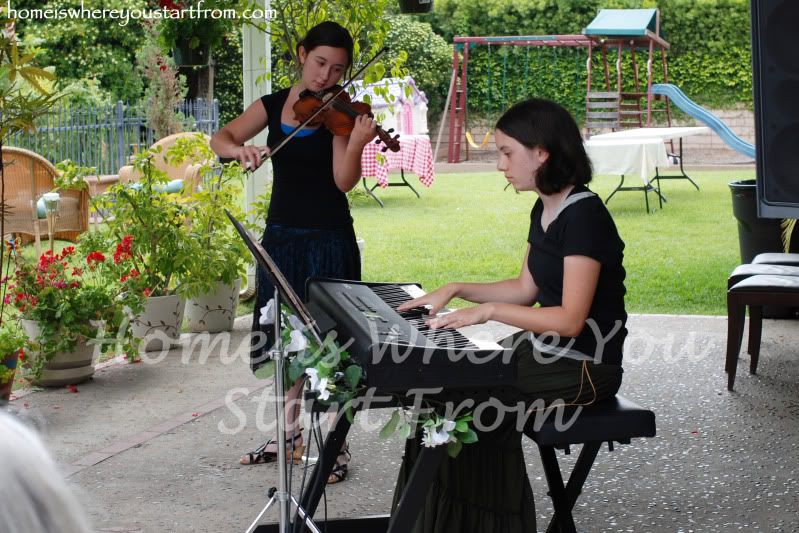 ~3~
Meg and Josie played a song from Tangled.  They did a really nice job.  It is wonderful to listen to the girls play together. It's like the sacrifice of music lessons has started to pay off in enjoyment now.
Their shoes/socks were fine.  I don't have to worry about checking them anymore.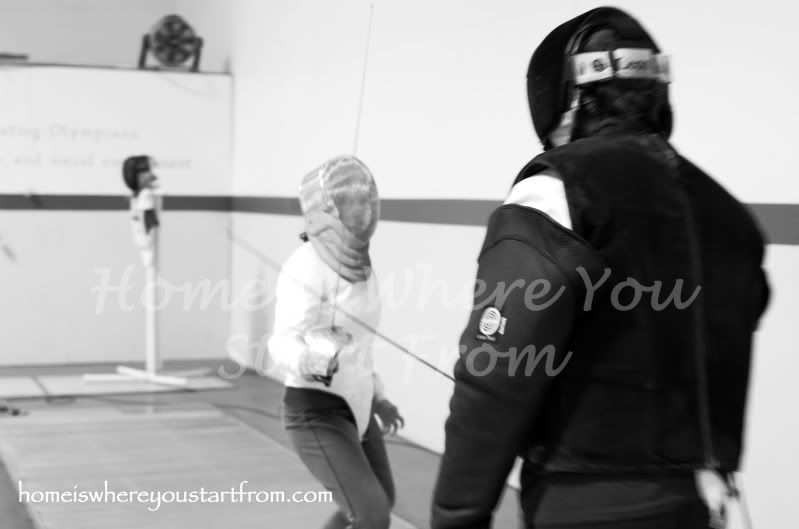 ~4~
We have a lot of saber fencing practice happening.  There is going to be a big national fencing tournament in Anaheim this Summer. This will be Josie's first national event, she is getting in all the practice that she can.
~5~
Meg and Josie had standardized testing last week. Actually, it was supposed to be this week, but I read the memo wrong, apparently.  We'll never really know, since I lost the memo.  I think I am A.D.D. mom.  So, I sent them off, solo- because Meg has her license!  (cue angels singing) and it all worked out okay.  They were having testing for kids with modified schedules/requirements and they went ahead and let my girls test, too.  It was really  nice to have the girls drive to and fro on their own.  My days sure have become less hectic.
~6~
Sky finished the rustic farm house table.  We brought it inside just in time to host a bunch of Bible school girls.  I love my table!  More photos coming soon!
~7~
I've decided to do the p90x fitness program.  I found an online coach and started an account over at the beachbody club website.  The account thing is really neat, I can schedule my workouts and then be kept accountable to actually doing them.  I've gained some pounds and frankly, something needed to be done.  I am going to be doing more walking/running  (by more I mean at all, I have hardly walked the past month) and do the 30day shred for a week before jumping into p90x, it looks pretty intense! I am hoping to blog my journey, but frankly the idea scares me a little. That, and my follow through is usually nil on many things.  I'm toying with the idea of just going for it and blogging it straight-up, or maybe blogging it but not publishing them until a few weeks go by and it becomes apparent that I will actually keep it up.  Not sure what I will do yet...
Any recommends for favorite at-home workouts?  Please share :)
7 quick takes is hosted over at Conversion Diary. Hop over to join up!