I like to open up my homeschool closet to share materials I find helpful in our homeschool journey, it's been a while since I've shared... Of interest to me lately are these nifty Math workbooks by Flashkids.
After a slightly confusing lesson on decimals -for test prep purposes, I went to our local Barnes & Nobles to find some help.  I found these great little flashkids workbooks on fractions, I loved how the workbook walks you through all the ins & outs of fractions in small, incremental steps with lots of practice.  I thought, Eureka! (Ca motto...learning moment, people!) and decided to buy the fractions workbooks and go home and order one on decimals... -which they don't make.  Cue unsmiley face.  I decided to skip that pesky section in the test prep workbook on comparing obscure, tiny decimals...problem solved. :)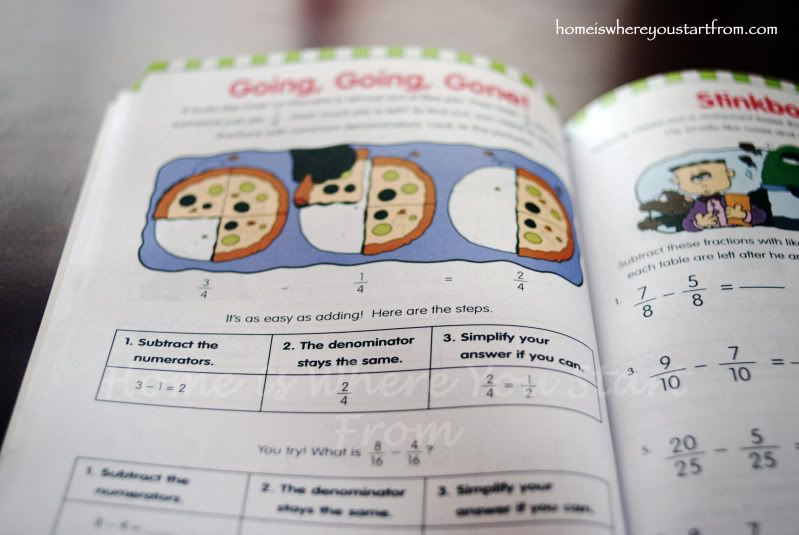 So, this handy-dandy fractions activities workbook is small, at a non-threatening 9" x 7" size.  Each page moves you through understanding and using fractions in small non-threatening steps.  It explains what a fraction is, parts of the fraction, comparing sizes, common factors, adding, subtracting, multiplying and dividing.  The only flaw might be the monster theme of the book.  I'm pretty picky when my kids are small, but after 2nd grade and up I don't think it would be a problem.  (unless you really don't want that in your house-which is why I am mentioning it, there are monsters, spiders, witches and vampires represented in silly manner).
This particular workbook is labeled 3rd grade - but we are using Math-U-See and my boys will not tackle fractions in that program till next school year, so for me, grade levels are kind of meaningless in Math.
This is a nice, simple workbook series that is great for test prep or introducing new concepts. Thumbs up :)
}I am linking up over at Learning ALL the time's Favorite resource this week. Click over to find some other great learning finds!
*disclaimer: a totally spontaneous review of an item I purchased myself.