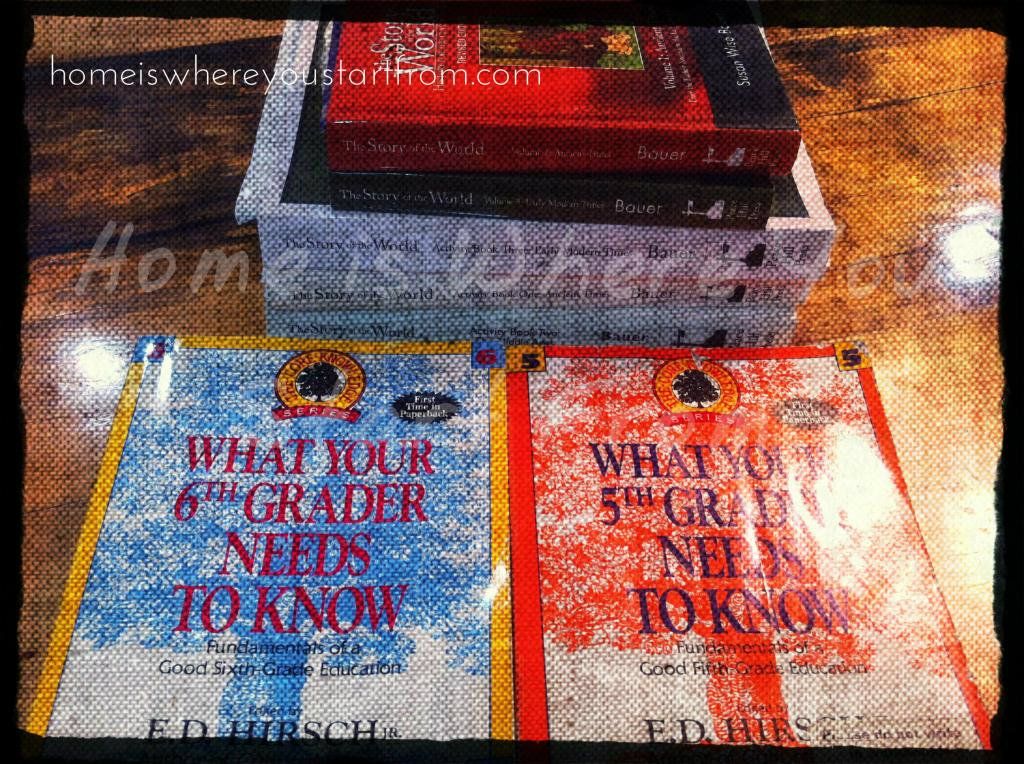 I am 13 years into this homeschool journey.  One thing I find myself coming back to, again and again is the use of a "spine" text for our studies.  If I could go back and do it all over, I would trust more in a spine text- to keep us moving, and then branch off into creativity as mood and time permitted.
I'm an eclectic homeschooler - loving a little bit of this and that and not afraid to try different things.  I am unorganized, creative- when my lack of organization doesn't hamper me, and lately- I think I might have A.D.D. -which I joke about, but only because if you don't laugh at yourself, you'll just cry, or be a grumpy head...  I wish I had realized my A.D.D. problem years ago, I think knowing I had a problem would have prompted me to lean harder on books/texts that work for me.  Strict schedules, I already know from failed attempts, over and over through the years- don't work for me.  A road-map, though, seems to work best.
I've gone back, over and over, to The Story of the World series for History.  Even when I have ventured into the world of boxed curriculum, with their beautiful and enticing schedules, I have chosen programs that utilize STOW because I realized, years ago, that this text simply "clicks" with me.
I think the magic of The Story of the World series is that it centers on a text that "gets it done".  The kids love the narrative, that is a big plus, but the magic is the fact that despite whatever chaos/boredom/lack of organization/ crisis  I am in the midst of (and believe me, it's a rotating string of events for me) I can pick up a volume of STOW and just read what is next.  If life is perfect and the stars are aligned, I can branch out and add in library books listed in the activity guide, or even do some of the activities.  At the very least, when chaos reigns supreme- I can read aloud, have the kids narrate and do a map page.
A thing of beauty.
I wish I had been more faithful to this method, I just didn't realize the genius in this structure- genius at least, for this A.D.D. mom.
At the tail-end of my homeschooling journey, I finally looked into the "What my ______ grader needs to know" series.  It is part of the Common Core series, which, to put it simply, is a set body of knowledge (or a scope and sequence) proposed for the entire country to use in public schools.  There is much debate about this idea, but you can see the advantage it could have for testing purposes and for families moving to different districts or different States.  This series by E.D. Hirsch follows the idea of the Common Core.  I started looking through it last week, and realized it could have worked for me in the same way that STOW works for me, by providing a spine or road map I could follow- to keep me moving instead of standing still.  Looking through the series, I saw good content for History, Literature,Culture, Geography, Science and the arts.  The content for Math and Language Arts, I felt, was not presented in a teachable way.  I think this series could be a really good spine for a homeschool family, and very economical too- a viable choice instead of the expensive boxed curriculum sets we all love to lust after.  (raising my hand- guilty here!)  I am thinking about using this series with Amie and Demi for geography, culture, Literature, Science and maybe the arts.
The beauty of a spine is the ability to slow down and branch-off when you want to delve into a subject more thoroughly or more creatively.
-just some thoughts, from a mom who is looking back now...
Do you have some favorite tried and true texts or programs you come back to over and over again?